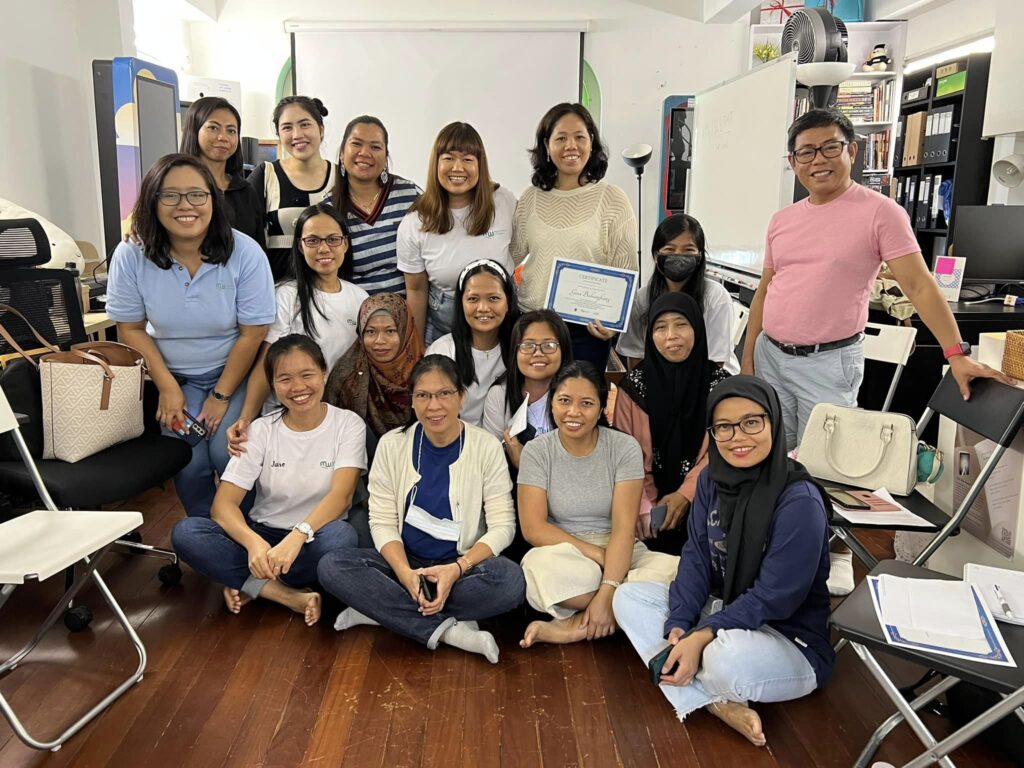 Do you want to be a good speaker in front of the crowd, or maybe talk like a Radio DJ?
This is what we learned how to do on our Sunday off day on 24 September 2023! It was a cold morning yet it was a warm gathering of everyone in the venue. We joined the workshop at Sing Lit Station, presented by Migrant Writers of Singapore and supported by The Majurity Trust, facilitated by Ms. Joanne Ongkeko.
To begin, everyone gathered in an oval shape and there our awesome facilitator started to introduce herself and after her we introduced ourselves too. We 16 very active participants from different countries! I was so excited to join in this workshop as I knew I could learn something new about how to be a good speaker. Even though I had many experiences talking in front of a crowd, there are times I'm still very shy.
We started to warm up by using our diaphragm to inhale and exhale. We learned different techniques in public speaking like how to emphasise the same sentence in different ways. We practiced how to pronounce more clearly and participants were enjoying talking like a Radio DJ 😀 We even practiced tongue twister and it's really fun and the same time it's very helpful for us to practice our voice. We played a game too – it's a very fun game and good exercise for everyone, called Shagidi, Shagidi,
Shapopo.
After that, we ended our workshop of course with group pictures with our awesome Facilitator Ms. Joanne and our amazing participants! A very interesting workshop, with enthusiastic participants and an an awesome facilitator. I observed everyone enjoying the workshop like me! I learnt so much from this workshop and I enjoyed too. Surely I'll do it again and again at home even I'm alone because one way to practice our voice is to read aloud often and apply what we all learned from this incredible workshop.
Let's read about some of our participants' experiences:
From Ramon Baer:
This is the first time I attended a workshop on "Voice as a Tool for Public Speaking" in Singapore. Thank you Ms. Joanne Ongkeko for posting the invitation in the chat group and for conducting the workshop yourself. I am inspired to do this again.😊 The workshop was certainly worth it. I was able to learn technicalities – very informative – and that I will be able to apply/practice techniques on how to be more effective on my next hosting gig 😁 I will definitely be more confident next time as I already have the knowledge/tips imparted by Ms. Joanne. The exercises was really helpful. It was fun and yet informative. The participants were also great. I observed them to be enjoying the experience! I also got to know that there is this group called Migrant Writers in Singapore – kudos to you all! Thank you Ms. Charo. Thank you also to Sing Lit Station and The Majurity Trust!
From Ayu Wandira:
I'm truly happy to see everyone there at the workshop. This is my first experience, being able to take part in activities from Migrant Writers of Singapore. I learned to be more confident and, most importantly, we can meet with friends who are great and can also add insight. Once again thank you to the team and to all!
From Claire de Guzman
I learned so much from this workshop! It was fun, engaging, and most importantly, super useful — now I know how to modulate my voice, make my speech more interesting, and pronounce better!
Thank you so much Migrant Writers of Singapore, Sing Lit Station, Maturity Trust, Facilitator Ms.Joanne and to all participants!! 🙏🎉🎉 And to those shared their wonderful feedback! Thank you so much ❤️
It's my pleasure to be a coordinator and the same time a participant too of this wonderful, wonderful workshop. Hope to join more workshops here in Sing Lit Station in the future. 🙏♥️
Written by:
Charo Sidon