Jenelyn Leyble:
Sunday April 23, 2023 marked our 4th Migrant Literary Walk that is organized by Migrant Writers of Singapore and Sing Lit station with the support of The Maturity Trust. That happened at Fort Canning Park. While walking, I encouraged my team to feel the nature, breath the fresh air, let it bring us back to our native land which we all miss big time. Let them reflect and hear the sounds around them. In this case they will feel settled and just clear their mind, just run away from the reality of migrant life for a while. We reached our destination and found a comfortable place to settle in.
First I introduced our theme for our walk which is Giving Back and Gratitude and we begin to introduce our self to each other. After introductions, I played a 15 minutes meditation music about gratitude and we all closed our eyes so we can feel it deep inside our core. Music soothes our ears and helps us realize the small little things we should be grateful for, like the air we breathe, the bed we sleep at night and just the life itself. After the meditation, I read them a short story about gratitude entitled "Neighborly Neighbor" and asked them to reflect about it and give a response.
My group mate Shafitri said, "Don't let other people drag you down. Instead learn to swim back from that dirty water and survive. Not because people do bad you will return the same." Angelina shared, "Be grateful even you are surrounded with ungrateful people. Make it as your motivation to do well." Laila said that even some people never stay in our life for a longer time, we should be grateful as they leave an unforgettable and remarkable experience to us. The only brother who joined the walk was in our group and when I asked what are the things he is grateful for, I was overwhelmed with his response." Just being with you all today, I am grateful. Thank you for guiding me always and opportunity to join all your activities."
I wrapped up the session by thanking them for spending their precious time in this walk and sharing their own story and experiences. It's indeed a successful walk with lots of fun, talking, sweat, lessons and take aways. I feel privileged to lead some of the walk coz not only I practice to be a good leader but also I'm learning true to life experiences and the bonding we created was unforgettable and even after the walk we feel connected. "Sharing our feelings without being judged." Thank you once again to MWS and Sing Lit station for the opportunity and also to my team for this one of a kind experience.
Lora Jane Arugay:
The day itself bursts with too much sun to brighten everyone. My group consists of different cultures and new faces. From meeting everyone and shaking each other's hand and a bit of introductions, I knew that this group of people will have a wonderful conversation. It's really nice to see enthusiasm and smiles as we take each step. The steep areas we have to endure to get to a place. At this point it brings out memories.
The conversation allows everyone to see the difference in our lives. From one that's beginning her migrant journey, to the veteran or someone with 18 years of experience as a migrant, to someone who studies life of migrant. Gratitude – I think everyone has a different view regarding gratitude but it allows everyone to see growth in their personal life and ability to make wiser decisions as migrant. From veteran to newbie, it gives her a chance to teach her financial education and how to cope up homesickness. It also allows her to impart some areas where she can better herself that can be useful in the future.
It reminds me that someone's experience in life is another's learning on bettering herself and that's how we give back to others. As a migrant, it's better to focus on a simple goal each day to prepare yourself for future endeavors.
Sonia Serrenade:
It was amazing to hear from the group members on how they enjoy the walk and how they are grateful in this life no matter what the situation is. We need to keep going and to be thankful for what we have; and also you don't have to be rich to help people, making people feel comfortable around you is something amazing.
My group mate Nhelz shared: "When I started my literary journey, my journey was not that easy. I also experienced criticism from great poets, how they criticized me, because I was not that great, but I remained positive about myself because I was very shy. But I did not give up, I continued to share my fiction and participate in workshops until I increased my knowledge in the field of literature. Time motivated me to give back to the community where I learned and made friends, and one of the reasons why I want to volunteer is to help my fellow workers to inspire them to continue their literary journey… I am very grateful for the Literary Walk because I had the confidence and peace to share and inspire others. The Literary Walk for me is a meditation and helps my mental wellbeing."
Cristina Belingon:
It's a great walk for us knowing that our group enjoyed themselves. We shared about how we are grateful for every aspect of our lives here in Singapore. I am happy that we had a new faces joining the team and they are free to express their feelings and thoughts during the sharing. One of them is new here in Singapore and she shared that she can't talk to others or her neighbour. Some of the sisters gave her advice on how to deal with this kind of situation and it led more to a deep conversation about their experiences here. Listening with them while exchanging their thoughts helps the group to be more active. And they are happy to release their longings with their family. I am happy to see their faces while they are sharing their lessons especially when it comes to handling their remittances.
There's a lot of stories that are worth it to listen while sitting down with them. This is the best part because we all can learn from each other. We ended our group with gratitude to each of us. I am a product of previous Literary Walks and as a way of giving back to the community, I volunteer myself to lead the group and to encourage more sisters to join the activities.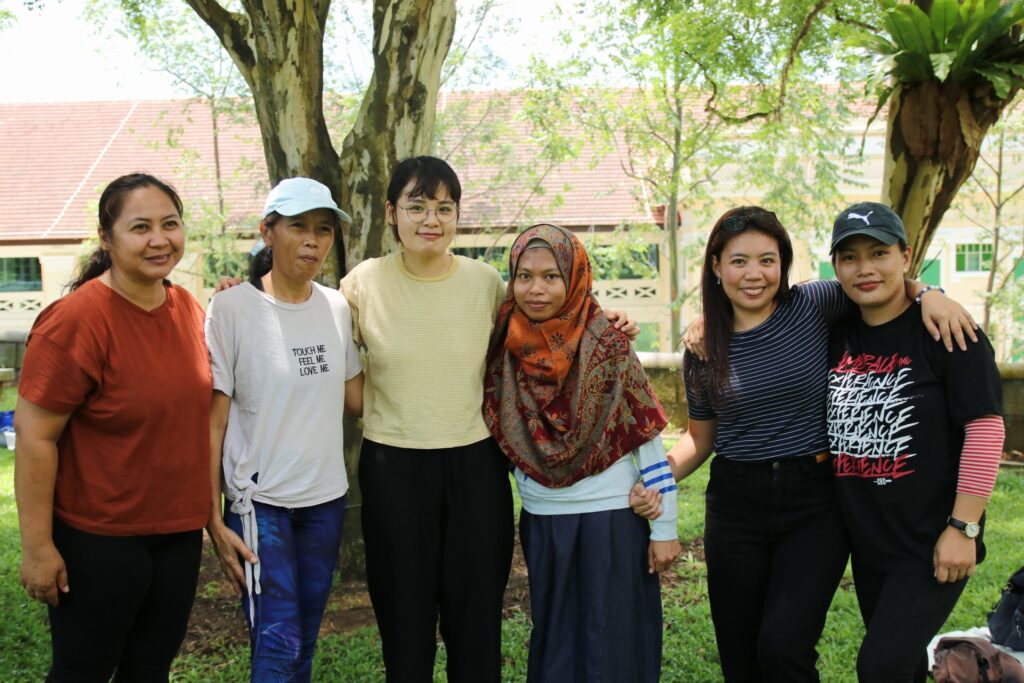 Stephanie Raciles:
The Literary Walk has so much inspiration to take and so much can be learned. Walking allows us the opportunity to reflect and observe those that are around us and the nature that confines us. While we walk, we have to use our senses to feel the serenity of the atmosphere and to pacify whatever we are feeling at that moment.
For the discussion, we gathered in a circle to give space to connect to one another and make sure that we are comfortable in expressing ourselves. We shared our own thoughts about the short story that had been read and shared in the group. Tears were shed while sharing our own stories and personal experience which has related with the theme. Sharing and expressing how we felt of our own experiences in life is overwhelming. The advice that we get from one another is so comforting.
I felt somehow the bond and connections with them through our experiences. Different stories but somehow same experience; how grateful and thankful we are.
Looking forward for the next literary walk.