Carnival of Poetry (COP) is a monthly event organized by Migrant Writers of Singapore and supported by Sing Lit Station to establish bonding among the international community of poets and poetry enthusiasts. This event aims to celebrate the universality of literature, especially poetry, as a medium to communicate, unite, and celebrate humanity.
It's the 58th session of Carnival of Poetry held at Sing Lit Station on August 27 with the theme of Art of Expression, which was attended by the friends of our readers and our supportive Migrant Writers of Singapore volunteer team.
Here is an excerpt from a poem by one of the readers, Rochelle Baccay:

adventures in this world
make it
worthwhile
to live in freedom
and mindful
of the boundaries
and setbacks.
as you are an art,
no one
can ever compare.
embarking on a journey
with propensity.
significantly interpreted clearly
with your energy.
as you are an art
in a journey.
more than just floating
and existing
but engaging
in a society's greater public welfare.
not only for your own well-being,
but for others
and all other created things.
you are an innermost longings of Gods' compassion.
a living art
yes!
breathing
and thriving.
as you are,
you,
are the art of expression.
Our first reader was Rochelle Bacay from the Philippines. She read two poems, Arts of Expression. and Doppelgänger. I like the line: "A living art / Yes! / Breathing and thriving / As you are / You are the art of expression." Living art is a passion to bring out true feelings through our emotions so that others know what you feel and what to convey to express ourselves. I felt that the Doppelgänger poem is about the reality of life. Life is like a game sometimes; in life we have to work hard and persevere because nothing is easy at the beginning and there are many trials that we face in life but everything will be alright. When it comes to our goals, we have to stand on our feet no matter where we go, our shadow does not disappear from us.
Our second reader was Latifa Maria Ulfa from East Java, Indonesia. She had two poems entitled Amidst My Life Force and Journey of Resilience and Gratitude. With all the struggles we suffer, we survive as well.
We keep fighting, we keep growing stronger and believing in ourselves and I think the positive happens.
Our third reader was Aaryan Haider Khan. He is from Bangladesh. I felt every line as he read his master piece is different. Our fourth reader Meetali Sharma was from India. Every line of her poetry is figurative and powerful, I like her naturalness, how she delivers so well that you can feel the real emotions from the words she utters.
Our fifth reader was Mr. Pantas Pangihutan Sitompul from Indonesia. He has two long poems that he wrote, titled Art of Expression & Expression of Poetry, about his literary journey. He explains that human beings are creatures that will always be longing for beauty and to feel happiness, in a harmonious living, both with nature and with their surroundings, and maintain a communication that shares and appreciates the meaning of beauty and the turmoil of feelings in every soul. Humans are born free, they interact and growth with nature, then capture all that have been seen, heard and felt which is then processed in their imagination of mind through a deep contemplation, and aware that everything grows and processes; all of it becomes something interested to deal with, and learn it then express it into an a beauty of art, as a record in everything that has been lived.

Every human being is born with talents and abilities that are unique and different from one another. The way how he expresses it is different from one to another, but humans always try to produce works of art so that the beauty must be maintained and preserved. Some pour it into a form of poetry, by stringing something meaningful and profound words using the finest of writing style, with a series of words that are able to touch the deepest soul; even though it's on a piece of paper, it could be able to embrace the whole meaning at once.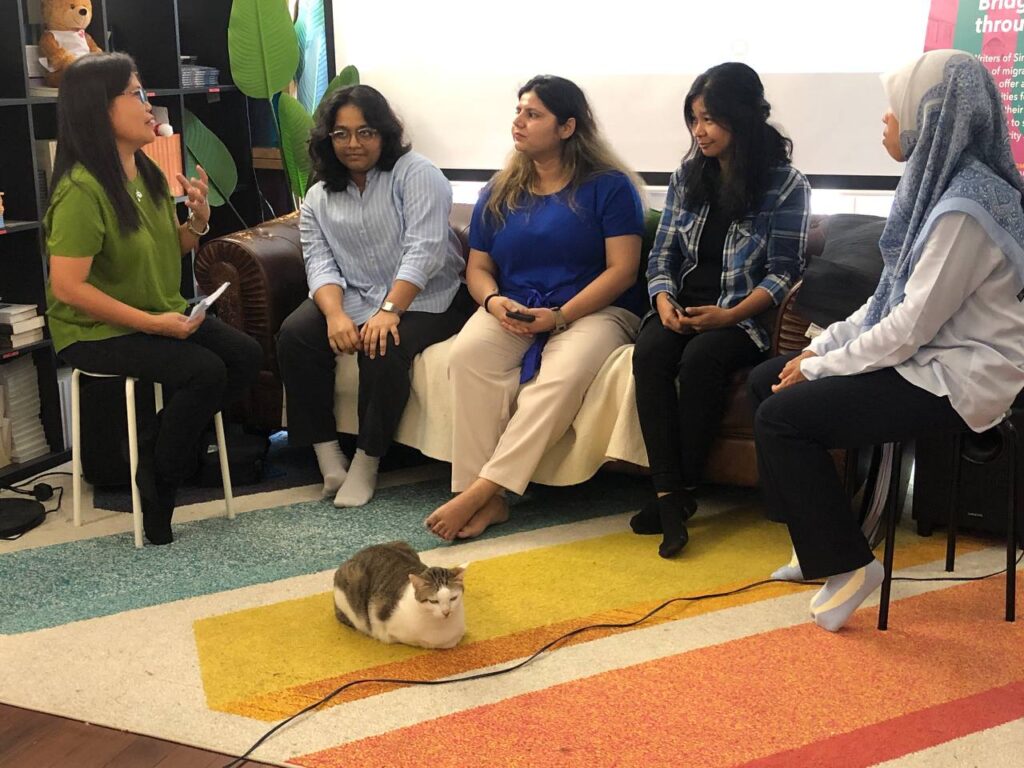 This is the session that I enjoy while I am interviewing them and I am really amazed by their answers, it's an honor to learn from them and so inspiring.
It is always a pleasure and exciting to moderate a session of Carnival of Poetry. Huge thanks to Migrant Writers of Singapore who give me another opportunity to host this session and endless thanks to Sing Lit Station which always supports us and provides us with a comfortable place to run the session. Last but not least, a bunch of love to all of you in the Carnival of Poetry team, from the bottom of my heart I thank everyone who attended and supported the said events.
See you again in another session of Carnival of Poetry.
Let us persevere united through literature world and make the bonding between poetry enthusiasts grow stronger and give positive influence to our society to bring inspiration to every poet around the world.
To all readers, thank you for accepting our invitation.
With love,
Nelie Bautista